Romance is in the house!! It's the month of love and affection; the month you consume media that makes your heart fluttery and your insides mushy with sugary emotions. Well, it's less the month and more of the two weeks leading up to the 14th?? But oh, well, THE BEGINNING OF THE MONTH THEN. Love has come out to play with your heart in the form of books, books, books that I'm going to recommend to you by gushing about them until you want to read them. respectfully tho. no pressure, soft hearts!! It's called the month of love not the month of forcing you to add my fav romantic books to your goodreads tbr. Back to business: enjoy!! (This post and Valentine's Day.)
♥ 
♥ 
♥
The first (of a few!!) romance books that I'm going to shout about is Mariana Zapata's From Lukov with Love which is one of the best slow burn books I have ever read in my whole (not that long yet) life and I can't contain myself when I think about it. It's one of those books that I totally didn't expect to love as much as I did and that completely got to me and made me cry and really feel the pain and heartache. It's about figure skating and features enemies-to-friends-to-lovers which HOOKED ME FROM THE FIRST PAGE. The main characters have chemistry and history with each other and they are both mighty good at holding a grudge lol. It's full of banter and bickering, platonic and familial love, professional ambitions and emotional repercussions. It's filled with so much love and I don't only mean the romance with that. It has so much heart.
It's so real and heartbreakingly human and I just saw so much of myself in our main, Jas – she's deeply flawed, full of anxious energy with a temper that makes her act out in the moment and regret her decisions/actions later. She's a perfectionist. Driven. Hard-working. Angry. At everything. Most of all: herself. I can't tell you how much she means to me as a character and how much I identified with her flaws. I just truly loved her and everything else, too: her relationship with Ivan, the special fragility of her relationship with her family and the. very. slow. burn. of. the. the. slowest. slow. burns. in. romance. history. which is pretty awesome for me because it fit the story arc incredibly well and ended the book on the perfect note.
♥ 
♥ 
♥
The second romance book that I LOVED TO THE STARS AND MOON AND BACK is Sally Thorne's The Hating Game which is just all around heavy on the fluff and banter that makes me swoon and sigh and smile until my cheeks hurt and feel like they are going to fall of every 6 minutes or so. It's the – and I don't say that lightly – ultimate office romance and enemies-to-lovers story. If you love one of those two tropes, you are *probably* going to at least somewhat enjoy this book. It's the banana bread of the breads, the peanut butter toast of the toasts, the ovomaltine of the chocolate mixes. I liked it, hardcore style, the first time that I've read it and then, then I read it the second time around and loved it even more. Everytime I come back to it, I find new favorite moments. Everytime I come back, I realize that I missed some quirky references or lovable character moments. It just makes me so happy, soft hearts.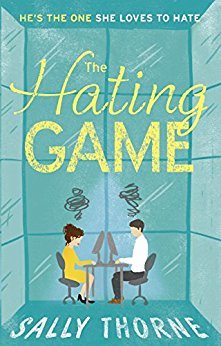 Yes, our two mains know how to push each others buttons — because they know the other  person so well. Period. Lucy and Joshua are picture perfect examples of two people that just fit into each others lives?? They are both goofy in their own way, childish and mature at the same time, driven and smart, passionate and kind. Two sides of the same coin, basically. They compliment each other perfectly. I have this urge to reread it again and mark my fav passages this time around and maybe, possibly, for sure, make some notes of my own on certain scenes that utterly make my heart all mushy. Nobody can take that – *cough* elevator *cough* moment away from me. I would 100/10 read another book about them. Just their everyday lives. Going grocery shopping. Adopting a dog maybe?? Moving in together? My heart already flutters when I imagine them doing just that, ugh. #OTP
♥ 
♥ 
♥
The third romance book that I think you should read is Carina Bartsch's Cherry Red Summer which is the only (originaly) german New Adult book that I LOVE TO PIECES. It's the perfect mix of dramatic and angsty while still being fun and humorous and it's so refreshingly german in the way it's written (without being too cringy) that it makes my heart just so very full!! I could definitely reread it again at the moment because it's been a year or so and the experience of reading this book is more of an annual thing for me. IT'S SO GOOD, SOFT HEARTS. SO GOOD. The two main characters and their banter are golden and yes, it's not perfect but which book is?? maybe, it's a little cliché at parts BUT it's the good kind of trope heavy: sugary sweet with my emotions. And the descriptions of familial relationships are true to reality and I just. really. like. it.
Emely and Elias are my guilty pleasure. They make mistakes and they don't behave how I would want them to 65% of the time BUT these two characters together are so much fun!! Their scenes are funny and heartfelt sprinkled with a little awkwardness. AND THE ENEMIES-TO-LOVERS (more of an lovers-to-enemies-to-lovers here) IS STRONG IN THIS ONE — wait, do I have a type?? Wow, I do. I'm #1 fan of that trope. It just fills me with joy and has so much potential for ENTERTAINING and TENSION FILLED moments and that's what makes it so good for me. It's probably what I would write, too, if I would try my hand at the Romance and/or New Adult genre. Huh. I'm an open book.
♥ 
♥ 
♥
Other romance novels that I have read and can recommend to some extent: Elle Kennedy's The Deal and The Mistake (both are funny, sweet and relatable), Kristen Callihan's The Hook Up and The Friend Zone (the first is sweet and sexy, the second is funny and cute) and Jana Aston's Good Time (over-the-top, funny, if you don't take it too seriously you are probably going to have a good time –> pun intended lol). Also, Mariana Zapata's Luna and the Lie (here she goes again!) which features slow burn, an age difference between the two characters and boss-employee-romance + friends-to-lovers.
♥ 
♥ 
♥
I'M (NOT SO) PATIENTLY WAITING FOR —
♥ "Waiting for Tom Hanks" (Kerry Winfrey) // out: June 18th
"Can a romcom-obssessed romantic finally experience the meet-cute she always dreamed of or will reality never compare to fiction?" sounds so cute, like, sigh my love-obsessed heart is already melting. Also, THAT title very much appeals to the references-are-so-cool part of my brain and soul.
♥ "No Judgments" (Meg Cabot) // out: September 24th
A storm hits a small island and animal-loving Bree tries to save as many beloved pets cut off from their islanders — but she can't do it alone. She needs help from the heartbreaker #1, her boss' nephew. I love this premise so much. Every part, literally. Also, the main on the cover has pink (!) hair sooo I believe Bree shares the color and I'm hyped.
♥ "The Unhoneymooners" (Christina Lauren) // out: May 14th
"Olive braces herself to get through 24 hours of wedding hell before she can return to her comfortable, unlucky life. But when the entire wedding party gets food poisoning from eating bad shellfish, the only people who aren't affected are Olive and Ethan. And now there's an all-expenses-paid honeymoon in Hawaii up for grabs." The cover is cute, that synopsis is cute, the name Olive is cute. Everything seems cute. Hopefully, the book, too. Because I would like to scream CUTENESS OVERLOAD after reading.
♥ "99 Percent Mine" (Sally Thorne) // out: now! since January 29th 
"When Darcy and Jamie inherit a tumble-down cottage from their grandmother, they're left with strict instructions to bring it back to its former glory and sell the property. (…) She finds a familiar face on her porch: house-flipper extraordinaire Tom's arrived, he's bearing power tools, and he's single for the first time in almost a decade." It's from Sally Thorne, soft hearts. And like you can see in the first half of this blogpost: I absolutely loved her first book… I couldn't possibly have higher expectations for this — so I'm going to wait to read this until I've toned it down a bit. I'm so excited, tho! Also: romance that develops later after they knew each other from childhood? Very fluffy.
♥ "The Right Swipe" (Alisha Rai) // out: July 2nd
"Alisha Rai returns with the first book in her sizzling new Modern Love series, in which two rival dating app creators find themselves at odds in the boardroom but in sync in the bedroom." This is a wink worthy short summary, indeed. A story about app creators in our digital age?? And rivALS? I'm already in love. This could be THE BEST and I'm here for it.
♥ "The Flatshare" (Beth O´Leary) // out: April 18th
"Leon has a flat that he only uses 9 to 5. Tiffy works 9 to 5 and needs a place to sleep. The solution to their problems? To share a bed of course… As Leon and Tiffy's unusual arrangement becomes a reality, they start to connect through Post-It notes left for each other around the flat." Connect through post-it notes??? Share a flat without seeing each other?? This sounds so intimate and sweet and just very ROM COM PERFECTION-ish. All these cute romances coming out? My heart is ready.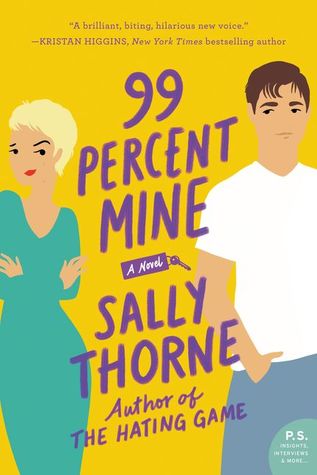 ---
What are YOUR favorite romance books? Or your favorite bookish couples? Happy Valentine's Day! Love, Janina